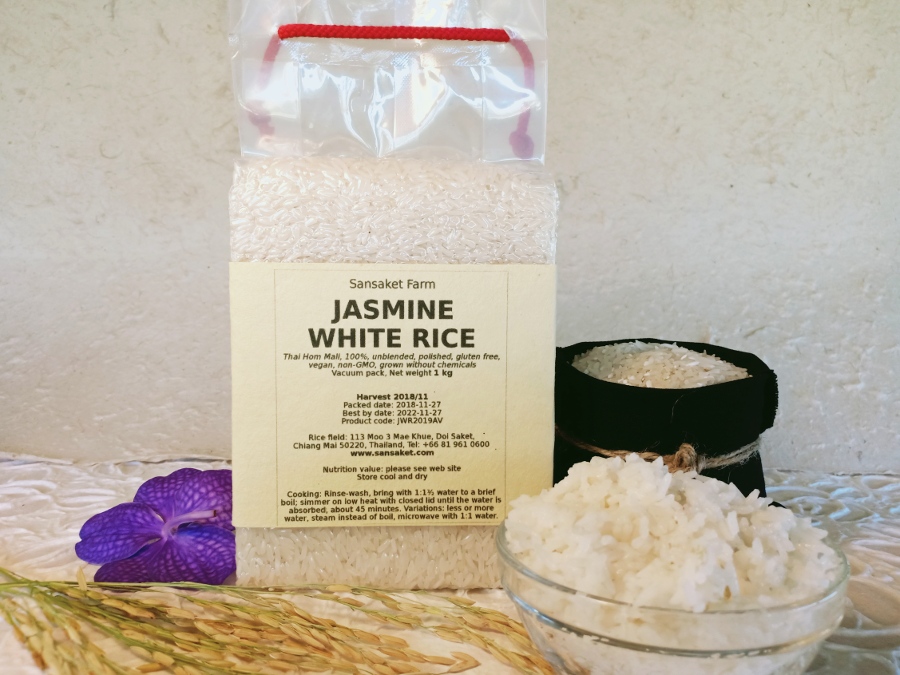 Sansaket Farm New Crop Thai Jasmine White Rice - No Chemicals, No Pesticides
Thai Jasmine White Rice, 1 kg Vacuum Pack - 90 THB

≈ 2.60 EUR
Contact us to buy this new harvest Thai Jasmine white rice right now.
Details
This particular Jasmine rice is fully milled as a white rice, with its well known excellent flavor, aroma and color.
Rice Harvest Monsoon Season 2018. Location on the map: > Sansaket Farm Rice Field.
Plants: Genuine native Thai Jasmine long-grain rice, Thai Hom Mali (original/non-GMO)
Conditions: Rainy season 2018, hand planted, natural fertilizer, no chemicals, no pesticides
Fertilizer: Cured, derived from > domestic wild boars
Water: Rain and reservoir > Mae Khuang Dam, with a drone
Harvested: 15 November 2018
Tested: 3/4 December 2018 - Arsenic: Not detected
Milling & packaging: Huai Hong Khrai Royal Development Study Center, Doi Saket
JWR2019AV Dehusked: 27 November 2018
JWR2019AV Vacuum packaged: 27 November 2018 (2018-11-27)
JWR2019AV Best used before: 27 November 2022 (2022-11-27)
Increase shelf life by refrigeration
About Thai Jasmine Rice
Thai Jasmine rice, locally known as Khao Hom Mali, is a long-grain rice, with a slender shape, jasmine color, and an aroma reminiscent of pandan or popcorn. At the 2017 Macau World Rice Conference Thailand's Jasmine rice was declared the world's best rice, ahead of 21 competitors. Cambodia finished second, Vietnam third.
Page last updated 30 January 2019