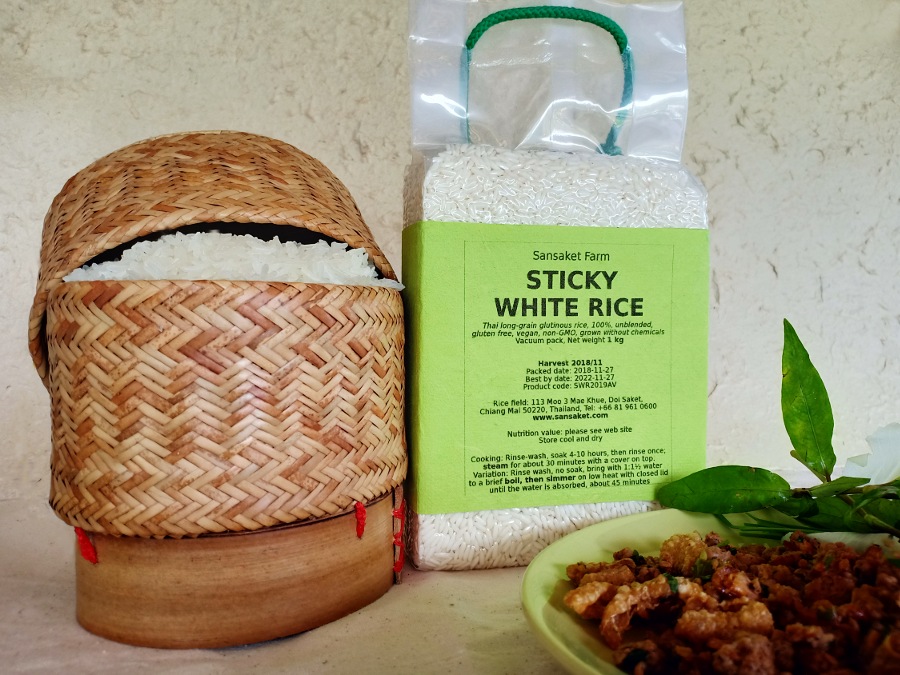 New Crop Thai Long-Grain Sticky White Rice - Freshly Harvested, No Chemicals, No Pesticides
Sansaket Farm
Sticky White Rice 1 kg Vacuum Pack - 90 THB ≈ 2.60 EUR
Contact us to buy this Thai long-grain sticky white rice right now.
Details
This Sticky rice is fully milled as a white rice, with its well known excellent flavor, aroma and color. As a fresh harvest, this new crop rice is extra tasty and fragrant.
Rice Harvest Monsoon Season 2018. Location on the map: > Sansaket Farm Rice Field.
Plants: Genuine native Thai sticky long-grain rice, RD Maejo2 (original/non-GMO)
Conditions: Rainy season 2018, hand planted, natural fertilizer, no chemicals, no pesticides
Fertilizer: Cured, derived from > domestic wild boars
Water: Rain and reservoir > Mae Khuang Dam, with a drone
Harvested: 20 November 2018
Tested: 3/4 December 2018 - Arsenic: Not detected
Milling & packaging: Huai Hong Khrai Royal Development Study Center, Doi Saket
SWR2019AV Dehusked: 27 November 2018
SWR2019AV Vacuum packaged: 27 November 2018 (2018-11-27)
SWR2019AV Best used before: 27 November 2022 (2022-11-27)
Increase shelf life by refrigeration
Growing Thai Sticky Rice RD Maejo2
This year we have planted Sticky Rice RD Maejo2, the northern Thai variety of the tall growing, long-grain sticky rice Khao Khor 6 (Regional Development 6) popular in Thailand's Isaan and Laos. RD Maejo2 has the same grain, taste and aroma characteristics as RD6, while in the field the plant stands shorter, wider and sturdier - a useful characteristic in the strong monsoon storms and rains that northern Thailand's autumn is known for.
Page last updated 30 January 2019